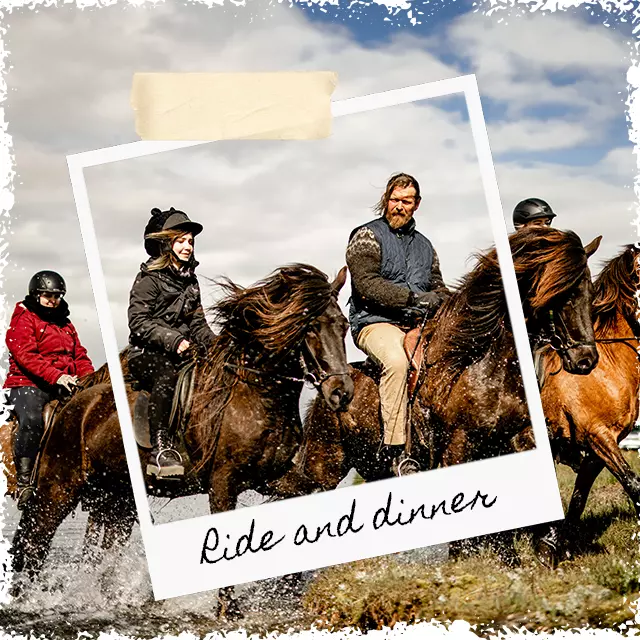 Horseback

riding and dinner

with a Viking on a historical farm
If you are traveling on the south shore of Iceland, then you have to stop by the legendary Mr Iceland, ride his amazing horses and have dinner with him.
Please note, in order to ride the Icelandic horse you have to be in relatively good shape.


How can I pay with Credit Card?To pay with Credit Card, you don't need a PayPal account. Just click on the button indicated by the arrow: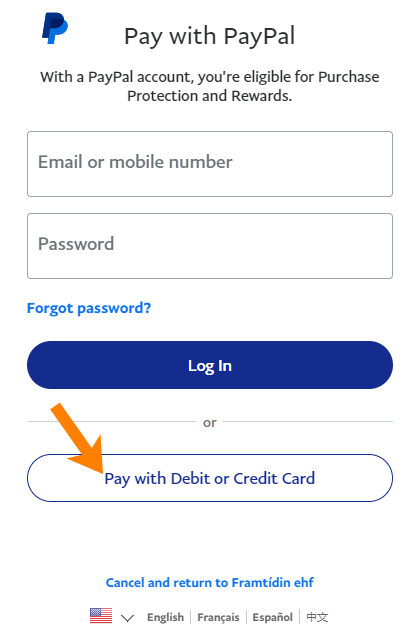 Everything you need to know about this adventure
We are the

playground

for horselovers
We would like for you to arrive at 13:00 at our farm Efri-Úlfsstaðir. I will meet you here and show you around the farm and then we hit the stables.
I will have a short presentation about the horse, its nature, energy and body language (language of horses). I make sure that you will get the horse that matches your riding abilities and your character. We will then go into our cozy riding hall and I will show you how you ride and communicate with your horse through energy and body language.
I will then assign you a horse. You, with my help will then get your horse ready but most importantly you will start to establish a relationship with your new friend.
When you and your horse are ready you will go into the riding hall and I will give you a lesson in how to ride and communicate with the horse. I will give you the feedback you need – no matter if you are a beginner or a world champion.
Once you feel comfortable with your horse then we go riding. There are many trails in our area but be sure you will experience some of the most breathtaking views Iceland has to offer. During the ride, I or your guide will tell you stories about the area and show you the old Viking trails that we have ridden since the settlement of Iceland, thousand years ago.
Once we are back, we take care of the horses and then go for dinner: locally roasted lamb, potatoes, and salad. During dinner, I will share stories about being a farmer in Iceland and our daily life on our beautiful Island.
Do you want an inclusive viking experience?
Combine

ride and dinner

with overnight stay
If you are looking for the edge that is going to make your vacation unforgettable then this is the one for you! If you are riding with us in our tour, you are also welcomed to stay on the farm. The house is the oldest concrete house on the Southern Shore in Iceland and has been renovated by me.
We can't wait to have you as our guests, feel free to contact us for any questions you might have. All the best to you my friend,
Hörður
Frequently asked

questions
If you can't find what you are looking for, about our farm or about our horse riding tours in south coast, contact us or use this search form:
Should beginners ride Icelandic horses?
This is probably the most asked question we get from our guests and the answer is ABSOLUTELY YES! However, it is important that you go to the right farm with the right kind of horses that will fit your riding level.
In order for you to get a real experience you should have a riding lesson so you can control your horse. Many of the large operators have horses that have been taking the same circle for years and in our mind that is not a horse friendly and definitely not a authentic horse riding experience. You want a horse that is in good mental and physical health that is going to create a true relationship with the rider which takes the experience to another level.
During your riding lessons we make sure that rider and horse develop a connection that is real, and rider feels in control of the situation but at the same time the horse accepts the rider as its leader. This is often the most rewarding part of the entire tour and not only enjoying a magic scenery but experiencing the trust that rider and horse share.
Do you offer private horse riding tours?
Yes we do – just send us an email with your requirement and we will respond directly.
Do you offer pick-ups and drop offs?
No, we recommend you to rent a car when in Iceland.
Do you offer vegetarian meals?
All meals consist of homegrown lamb, salad, potatoes and gravy. We do not cook special vegetarian meals.
Do I need to be an experienced horse rider to ride with you?
Beginners are welcome. However, you should be in a relatively good physical shape and balanced mentally.