Small groups only for real horse riding experience
Riding a

horse

in Iceland is a cultural experience
We have been riding the Icelandic horse since the settlement of Iceland.
The Icelandic sagas are full of descriptions of the Vikings riding their Icelandic horses both for battles but also for social gatherings, where they would ride the Icelandic horse together from farm to farm and visit political allies, friends or family. Want an experience of a lifetime?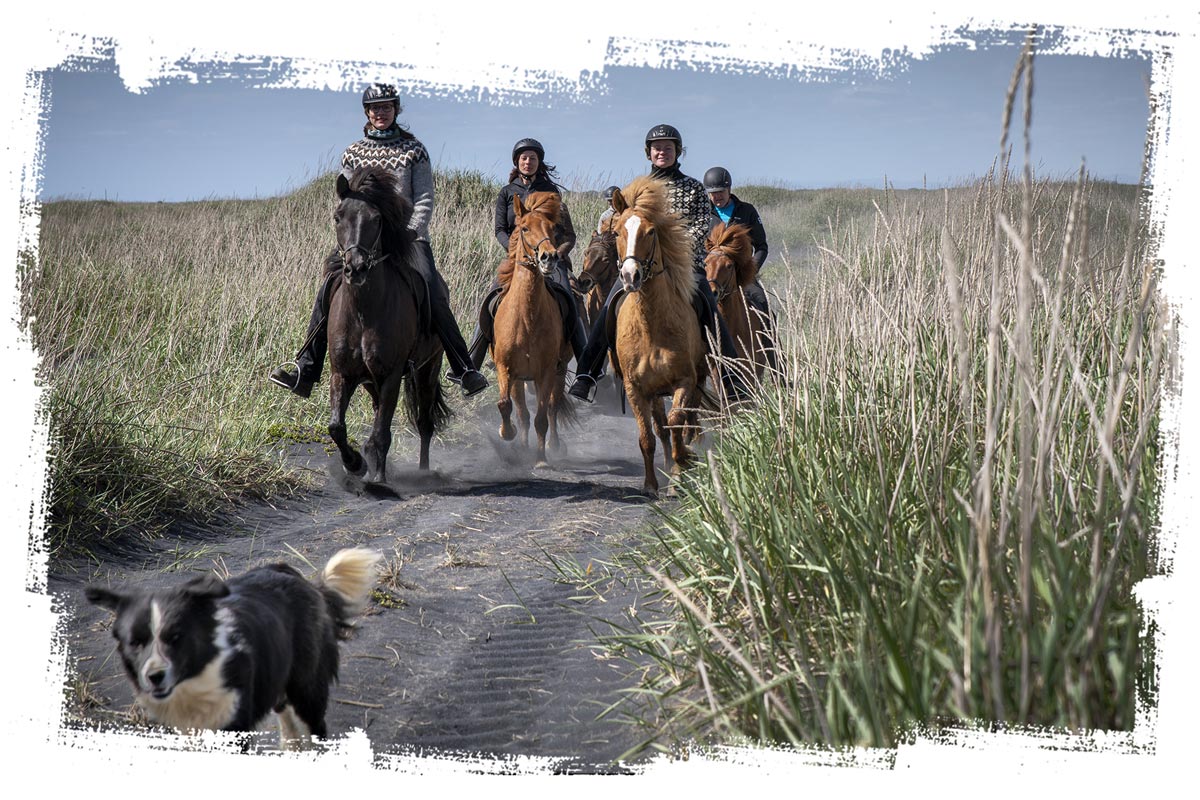 Combines education, awareness and pure experience
Want to have an

unforgettable

horse ride?
Get the best riding experience in Iceland and visit our amazing farm, during your stay you will experience our horses in the best possible way and the Icelandic country hospitality.
Combines education, awareness and pure experience
Black beach horse and

yoga

retreat
All inclusive horseback riding retreat on the South Coast of Iceland.
Want to do something unforgettable? Horseback riding with a style is our speciality.

Experience the Icelandic horse riding

lifestyle
Coming to Iceland, it's not only about exploring nature and being outdoors it is also about meeting the locals! When you come to Iceland, horse riding is a must-do for all people that are interested in the Icelandic horse.
We want to get to know you and share our Icelandic horse riding lifestyle with you during your visit to the horse farm. And we share our story about how we started this journey and our love for horse riding in Iceland. You'll have your best experience in Iceland with us.

Hi my friend!
We can't wait to have you at the farm and show you all the magic Iceland has to offer. The horse represents the most masterful form of earth energy in Iceland. It provides us with momentum so reliable, so supportive that you can ride your horse toward any goal, no matter how difficult the terrain. A horse personality is fully awakened, fully alive and cannot be defeated.
The Horse's freedom becomes available to us to only through opening your heart to our amazing Icelandic nature.
Love to you my friend,
Hörður

Book online now and get money back guarantee if you are not 100% satisfied
#1

horse riding tours in Iceland
Take a slow deep breath. Quiet your mind and close your eyes.
Now, when was the last time you felt truly… connected? I don't mean connected to your phone, your job, or your social media feed. We're talking about the deep, grounded, and peaceful state-of-mind that allows you to be the best version of yourself.
Today's always-on, information-overload, whirlwind-pace world makes it hard to achieve such a mindset. But, it's not impossible. It just takes a little intentionality, love, and space. And we've got plenty of that here in Iceland.
Book your best Iceland experience today!
Hang out with us on

Instagram